1. Spot-conceal blemishes, instead of a full face of foundation.
– Carry a concealer palette with you throughout the day in case you are in dire need of touch up. This will also keep your face from looking cakey.
2. Cut out a step from your routine by putting primer directly on a makeup sponge.
-The primer will put a long-lasting finish to your foundation, and there's tons of different primers available for your skin type.
3. Make sure to always completely remove the previous day's makeup.
-While sleeping over night, your makeup tends to rub off on your under eyes. When you wake up in the morning, wipe off any excess makeup and start off the day with a fresh face.
4.Don't leave any white powder residue on your face!
-Using a makeup sponge can help eliminate the trace of white powder you used from baking. The best way to do it is by getting your sponge slightly wet with water, ( squeeze any extra out,) dab some powder from your powder cap, and then press it into your skin.
5.Apply blush to your cheeks and eyelids to make yourself look awake and lively.
-Orange tones that match your skin; like peach tones, can disguise the fact that zero hours of sleep last night. Be careful when doing so though, to avoid a spraytan look.
6. Use eyeliner instead of primer to make your eye shadow stay on longer.
–Apply eyeliner on your eyelids, but not past your crease. This will keep your eye shadow on and prevent it from smudging and coming off.
7.Add a subtle highlight on the orbital bone of your eyes.
-Brush on your highlight in "C" motion along your cheekbones and the outer corner of your eyes, this will brighten your skin and make your face look fresh. If you have dry skin, you can always use a cream highlighter for a less cakey and more flawless look.
8.Conceal your under eyes at a curved angle if you have full cheeks.
– Use a red or orange concealer (even lipstick works) to help hide your dark circles. Then put your foundation or yellow-tinted concealer on top of it, this will disguise the red tint from your concealer. Make sure to blend them out completely between each step.
9. If you have flatter cheeks, use the triangle technique with your concealer.
-You will continue with same shades of concealer as tip #8, but instead of doing it at a curved angle you will want to do it in a triangular shape.
10. To look wide awake, Just curl your eyelashes.
-If you don't have anytime to put on mascara, curl your lashes. Curling your lashes will make it look like you sleep well last night.
11.To contour your cheeks, draw a check mark.
– using this technique, or drawing a '3' on each side of your face will make your face look much slimmer.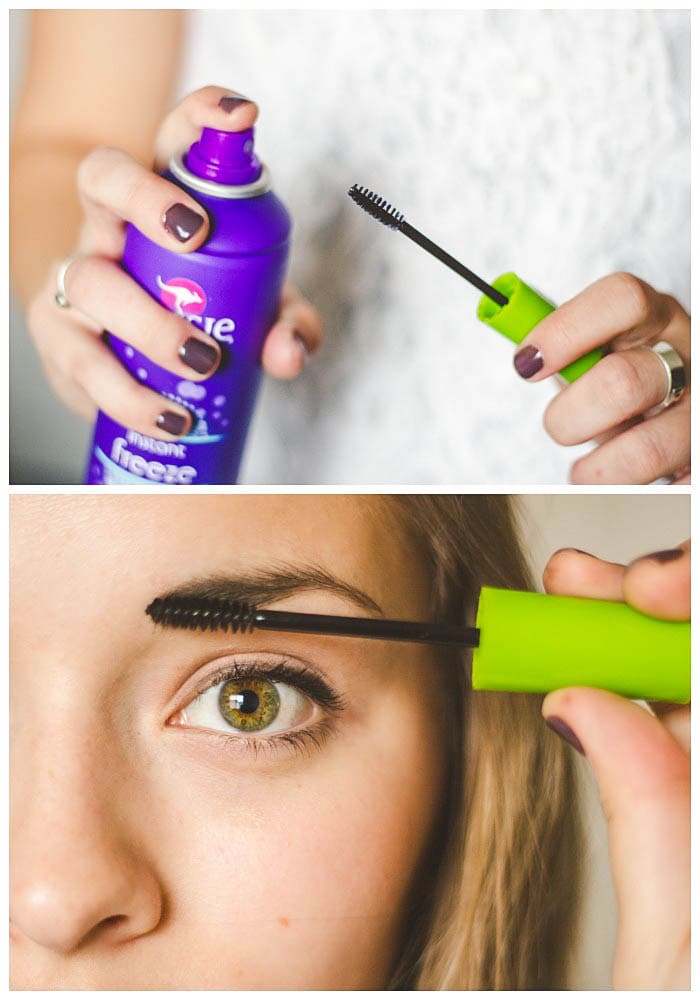 12.Want fuller eyebrows without filling them in? Spray a Spoolie or disposable mascara wand with hairspray.
– If you don't want to put forth the time precisely filling in your eyebrows, just spray your Spoolie and go. This will set your eyebrows and make them stay all day.
13.Brighten your eyes in seconds by lining you lower lashes with a nude colored eyeliner.
-The bright white will cancel out any red marks on your under-eyes, making you look wide awake and ready to have a great day.
14.To prevent over-plucking and having an uneven mess, fill in your eyebrows first.
-Filling in your eyebrows first will ensure that your eyebrows remain as even and natural looking as possible, and will provide a fresh look when you conceal the skin around them.
15.If you're short on time, use the same shade on your eyes, cheeks, and lips.
-Using the same shade all over will give you a natural, but professional look. Though you're short on time, this look will keep you looking presentable throughout your day. This totally works out if your lazy, or if you're short on makeup, too.
Info from: Cosmopolitan's Snapchat Story